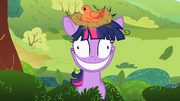 I feel like this right now,
plus you also find out that I'm a brony.


It was only six weeks; six "bloody" weeks without beads. I thought I could do it. I was wrong,ver wrong, I'm going insane. Bring out the straight jacket. Has this ever happen to anyone else? Quick recap: This summer I'm at Penn State for summer classes;English and Theater. While it has been fun and I have made new, insane friends. One also makes bracelets, we have been shareing tips. But I miss my workroom and beads. The sketchbook that I had brought along with me is full of ideas now and I can't wait to get back to work for two weeks before I get shipped back out here for the fall. But this time I'll will be bring my travel case of full of beads with me.
I already have a couple people asking if I sell my work; Time to make a name for myself! (hopefully)
Right back to working on my final English project in my padded cell.